I am proud to be WCD Director Europe since January 2022. I look motivated forward and hope for the trust and support of the European World Cleanup Day and Let's Do It World community 🙂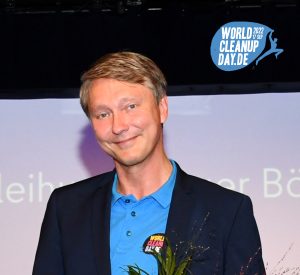 Achievements:
In 2016, I met representatives of Let's Do It movement. As a result of this I took responsibility to lead World Cleanup Day in Germany. World Cleanup Day on 15th September 2018 was a great success worldwide. In Germany my team was able to inspire people, partners, and societies in over 125 cities to come out that day for a nation-wide cleanup.
Since the topics of sustainability and climate protection have fascinated me for a while and I ́m convinced that our generation must act now, I founded a NGO – Let's Do It! Germany e.V. in 2018 with a purpose to tackle the hot topics such mismanaged plastic, waste and climate change through World Cleanup Day. Since 2018, I've been the president of Let's Do It! Germany.
World Cleanup Day is not just one day for a nation-wide cleanup but looking into the future and finding the ways to create sustainable changes and innovative solutions. We have added several side projects under the World Cleanup Day umbrella for example a painting competition or our school project "WCD macht Schule".The World Cleanup Day 2021 in Germany engaged:
189.626 participants
3.217 cleanups
836 municipalities
I have been accredited as an EU Climate Pact Ambassador for Germany since 2021.
On a global level of Let's Do It World NGO, I ́m part of the global partnership workgroup since 2019. Up from 2021 I was leading the process and team to create the new LDI World Ethical Funding Policy.
As project leader of the LDI World Annual Conference 2021 in Munich I structured the project team, the website content and its functions. I created and installed the collaboration platform and was responsible for integrating tools like Zoom, YouTube and others into the conference platform.
Motivation:
Strategic and well organized multi-project management is my daily life. I work independently but also enjoy working with a great team. As my strengths I consider a passion for the topic sustainability, my flexible and collaborative approach and great leadership skills. Concidered my experiences, passion for the topic, large network and skills that perfectly match to the expected needs, I believe I could add some value to Let's Do It World and WCD team leading it to achieve all the goals.